Shop Local on Hamilton Road!
Hambucks are a promotional initiative to support local businesses on Hamilton Road. Available in $5 & $10 denominations, you can win Hambucks at Hamilton Road BIA events or through social media giveaways throughout the year.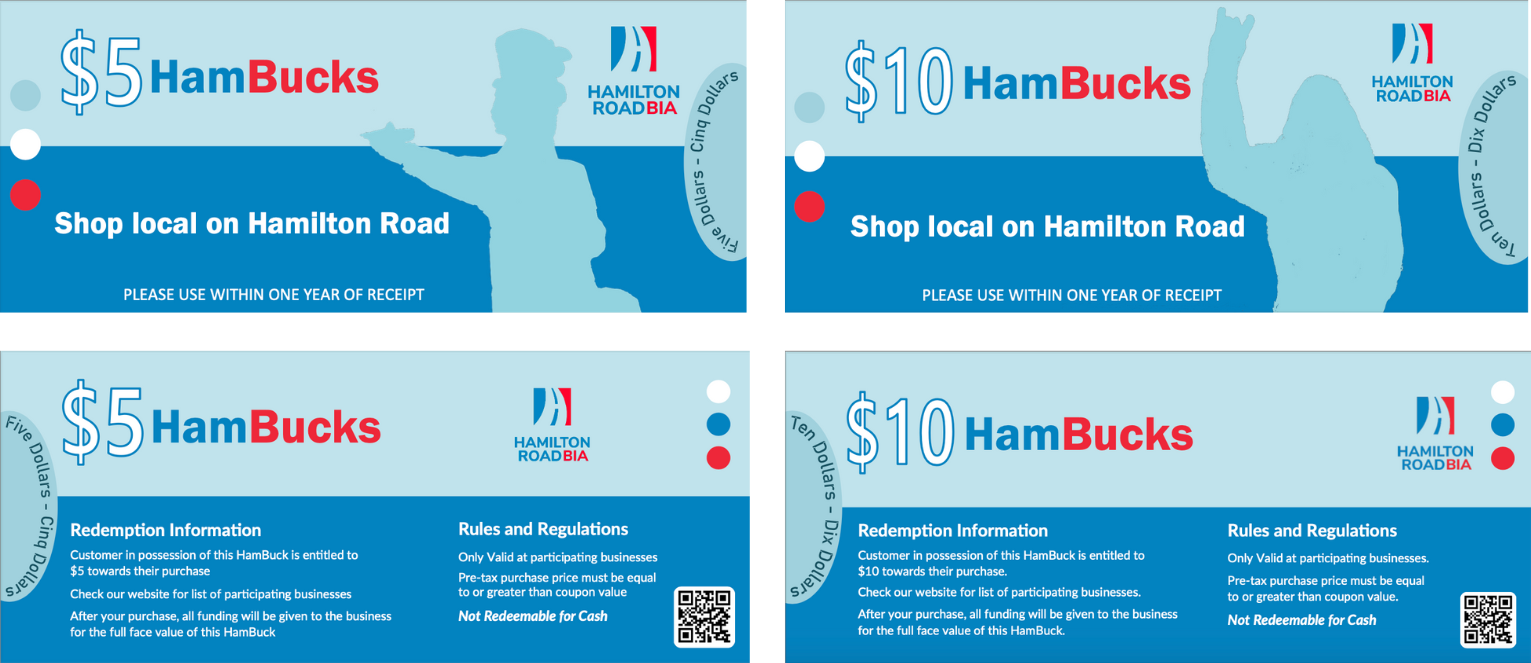 Using your HamBucks:
Redeem at Participating Businesses: 
Prior to usage, please see the list of participating businesses below.

Only Valid at participating businesses.

Pre tax purchase price must be equal to or greater than coupon value
No Exchange for Cash: 
Consumers bearing HamBucks cannot exchange their HamBucks for Canadian currency.
Maximum Redemption: 
No more than $50 in blue promotional Hambucks may be used toward any single purchase total.
Expiration: Must be used within one year of receipt.
For Participating Business Members:
Redemption Authorization: 
Only participating businesses can submit redeemed Hambucks through the Hamilton Road BIA office.
Proof of Identification:
Hamilton Road BIA may request identification when redeeming Hambucks.
Recording Required: 
Serial number and date received must be recorded for redemption.
No Reproductions Allowed: 
Only original and authorized Hambucks are redeemable. Reproduced or illegitimate Hambucks will not be reimbursed and may be subject to criminal investigation.
Terms and Conditions:
No Liability for Lost/Stolen Hambucks: Hamilton Road BIA is not responsible for any lost or stolen Hambucks.
No Responsibility for Returns:
 

Hamilton Road BIA is not responsible for returns of any goods or services purchased with Hambucks.
Join the Hambucks Program:
If you want to sign your business up for Hambucks, please contact us at 548-668-4242 or visit us at 596-B Hamilton Rd, London, ON N5Z 1S6."